Luxury living in the heart of Gurgaon – Platinum Towers at MG Road: Gurugram is all set to break all the stereotype of the real estate world. The new addition to the luxury world is Platinum Towers. You can take anything into consideration, whether it is location, elegance or space, Platinum towers have covered it all. The project is located in sector 28, MG Road, Gurgaon. The Suncity Projects Pvt Ltd. developed a luxurious residential project worth keeping major key points under consideration and named it Suncity Platinum Towers. The location is the main advantage for everyone. It is located at the walking distance of revamped IIFFCO Chowk which will not even take a minute. The sale prices of apartment start from 3.6 Crore Onwards and preview apartments are now ready. The property is located in such a way in which resident can guarantee comfort and convenience. Apart from the benefits of this location, the luxurious property covered unparallel features and amenities. Only the Clubhouse is widely spread in about 2043 sq. Ft. to 2200 sq. Ft. making it the top priority for people. Apart from this, the flats consist of huge sit-out balconies that offer a terrific view of the garden area and people can enjoy the beauty of nature. Also, Platinum Towers are doing justice to their name by providing automatic car wash services and a play area for kids to enjoy it. The apartments are also cross-ventilated and business centres. There are many additional benefits that can be enjoyed by the people living in Platinum towers such as – Banquet Hall, Spa with steam and sauna, and the fitting and fixtures of each and every apartment are inspired from Europe.
The Platinum Offers: Platinum Tower is offering an apartment of several unit types such as – 2BHK, 3BHK, 4BHK and 4 BHK large with the total floor to ceiling glass facade. The height of the floor to floor is around 3.3 m to 3.6 mm. On top of that, the unit type also consists of double height entrance lobbies and doors and windows specifically made up of Slimline aluminium. In addition to this, the finishing is done by four different types – Silver, Bare Shell, Platinum and Gold. The total size of the units lies between 2300 and 4300 sq. Ft. Also, the units are open at two sides. On each floor, you will only see 2 apartments that cover more space per apartment. The balconies are large which allows a person to sit and enjoy their evening tea with their family. On top of that, there is a total of six towers that give out flat slab structures. In addition to this, there is a mobile app for the resident that makes it a priority for the customers. The total saleable of 3 BHK flat is 249.44 sq. m per 2685 sq. ft. For the 4 BHK flat, it is 292.64 sq. m per 3150 sq. ft. In addition to this, 4 BHK large saleable areas are of 387.87 sq. m per 4175 sq. ft so you can understand how cool is the size of Suncity Platinum Tower MG Road Gurgaon.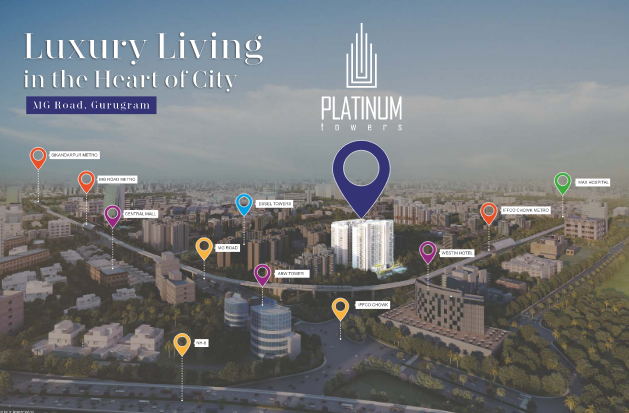 Connectivity of Suncity Platinum Tower MG Road Gurgaon: Even the airport is only 10 minutes away from this luxurious location. With the famous destination of shopping and eating only 3 and 5 minutes away making it a lot convenient for a bachelor or a family person with kids. It only takes 2 minutes to reach the NH-8 highway which makes it convenient for everyone to
reach their office on time. In addition to all this, the essential facilities such as hotels, schools and hospitals are only 5 minutes away from Platinum Towers.
Contact here for Booking/Enquiry:It is your chance to enjoy the Platinum Freedom to choose any kind of apartment you want. To book your apartment now you can get in touch with us on +91-886-065-4918 or visit at www.propertyxpo.com.