Due to triple blows of demonetization, implementation of RERA ( Real Estate Regulatory Act) 2016 and GST (Goods and Services Tax) by the Modi Government, all the builders and developers are facing a hard as the most important sector of the country, The Real Estate is adversely affected. But with the announcement of the Union Budget 2018 on Feb.1,2018, it is expected that realty sector will soon see the light of the day and flourish again but it will take some time to reach the same level on which it was before the boon phase.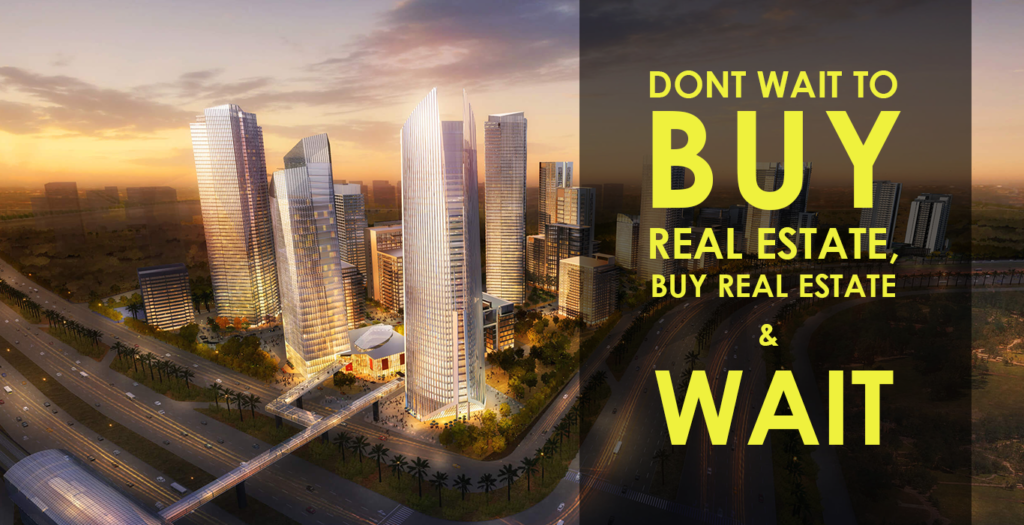 According to Amit Kumar, who is the CEO of PROPERTYXPO, which is a real estate consultancy, "Recovery of the real estate sector will be gradual and it might take three to five years for the sector to get back to normal." Even, experts also feel that the real estate sector needs time to revive and the harsh blows of the past two years will continue to haunt the growth in the year 2018. But the main problem that perturbs the mind of the buyers and investors is that whether they should invest in property or wait for some time. Is it the right time to invest so that they can have maximum gains? If not, then when it would be the appropriate time to invest in the property and other residential projects?
Different people have different opinions. Founder and managing director of PropEquity Samir Jasuja said, "This is a good time to purchase real estate for end users and long-term investors. This era of reforms and added structure will definitely improve the market but only in the medium to long-term. There could be some recovery for ready and resale prices but not too much increase in price is expected." It clearly answers the aforesaid questions. Although it is the best time for end users to invest in property but things are not so favorable for those investors who aspire for short-term gains. So, they should keep a distance from the market and think of investing in property when the right time knocks the doors of their lives.
Although new reforms like demonetization and RERA (Real Estate Regulatory Act) have brought in more transparency and increased the level of confidence and trust among buyers and builders. This improved the real estate market significantly and gave buyers a secret weapon overbuilders and developers. Strict norms of RERA made real estate completely a buyers' market. The valuations are appropriate and prices of properties are getting competitive with each and every passing day. Dynamic changes are flooding the real estate market. The long-term investors who can withstand the downturn in property cycles may get favorable returns in the next five years. But it can only occur if money is invested in a pertinent location with the suitable segment.
Overall, it seems that real estate may not keep up with its earlier pace, but still, some positive changes may lead to a little rise in growth of this dynamic sector. Hence, time does not seem to be favorable for all, still many may get benefitted by investing in right properties. But when developers, builders and everyone related to this sector were facing the ravages of the inevitable condition that plagued the economic condition of the real estate sector, affordable housing helped in maintaining the position and saved it from the slump in the market. According to Ashwini Kumar Hooda, who is  Deputy Managing Director of the Indiabulls Housing Finance, the year 2018 would see a huge growth in home purchase transactions in the 25-50 lakh brackets spurred by the reforms introduced in the year 2017 and its varied benefits being passed on to the middle-income category. So, it is expected that affordable housing would continue acting as a life savior for the Indian Real Estate Sector and help in its revival. Even Brotin Banerjee, who is Managing director and CEO of Tata housing, expects that affordable housing segment will grow substantially over the next few quarters and affordable housing will be the key driver of the growth of the real estate sector in the coming year. Even due to the 'Affordable Housing Scheme' by the Khattar Government in a bid to raise affordable housing makes it more important among all other sectors. Many experts feel that the rate cuts by RBI (Reserve Bank of India) may lead to a lower rate of interest for home loans and EMI's in 2018. This will lead to greater purchasing power and hence, there would be a rise in demand among buyers for the residential complexes and properties. The government is also taking up various initiatives in order to ease FDI (Foreign Direct Investment) which will deal with the problem of liquidity. This, in turn, would help builders and developers to offer more innovative residential projects to the buyers, thereby, producing an upward surge in demands in the real estate market. Generally, real estate investors favor tier 2 cities as prices are low there. Hence, this would not be a burden in their pocket and greater scope of development of residential projects in these tier 2 cities is an added advantage. According to Ankur Dhawan, who is Chief Investment Officer at a real estate consultancy PropTiger.com believes that the prospects in certain regions like Nasik and Nagpur are favorable as industrial and commercial development have been picking up the pace there even though, the demand for real estate was quite low in these regions. Good returns are expected in Hisar in Haryana, Mysuru, and Bijapur in Karnataka. According to him, other favorable locations for investment are New Gurgaon, Rewari, and Coimbatore.
With the advent of new changes and initiatives and affordable housing acting as a benediction for the ailing sector, it is not skeptical to say that although real estate sector might take time to get back on track with surging growth soon. But it will improve gradually and offer good opportunities for investors and home buyers in 2018.